PERSONAL TRAVEL INSURANCE
Holidays should be a time to enjoy yourself and relax, to escape from the stresses and strains of daily routine. Which is why the simple precaution of buying adequate travel insurance is a worthwhile investment. If you need medical help on holiday, are involved in an accident, lose anything or have to cancel your holiday at the last minute, the appropriate cover saves you the worry and expense you'd otherwise face.
This covers you against (among other areas) personal injury, loss of baggage or money, legal costs, and cancellation costs if you are forced to cancel the holiday. Many policies also provide personal liability cover.
Travel insurance is available on both a 'per trip' and annual basis.
BUSINESS TRAVEL INSURANCE
This covers you against the loss or damage of business equipment such as laptops and product samples. This often also covers the costs of an emergency courier to deliver replacement items if needed (say, for an important meeting). Some policies also provide cover against the death or hospitalisation of an employee on a business trip, covering the costs for a colleague to take their place.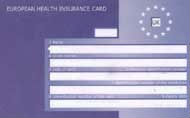 EHIC CARD
Whatever your reasons for going abroad, you may be entitled to medical care at reduced cost or sometimes free. Your entitlement will vary based on whether you're going to an European Economic Area country (EEA) or elsewhere in the world. The European Health Insurance Card (EHIC) replaced the old E111 in 2006.
Your EHIC lets you get state healthcare at a reduced cost or sometimes for free. It will cover you for treatment that is needed to allow you to continue your stay until your planned return. It also covers you for treatment of pre-existing medical conditions and for routine maternity care, as long as you're not going abroad to give birth.